Welcome to ABC Rug and Carpet Care
888-829-7072
Call Us -
Get 15% Off All Our Rug services
ABC Afghan Rug Cleaning New Jersey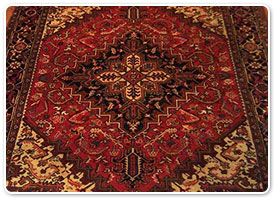 Afghan rugs have an amazing way of pulling an entire room together visually without making it look tacky. Somehow they can combine many colors and still manage to give your home an air of beauty and class instead of tackiness or gaudiness. Multiple colors can sometimes make a room look terrible. However, if you are picking up the colors in your Afghan rug, you can bet that your decor will be seamless and beautiful.
Sometimes people get Afghan rugs mixed up with Chinese rugs. Though the styles can sometimes look similar, they are not the same thing. In addition, when you are shopping, you can't just buy a genuine Afghan rug from anywhere. You have to make sure you are buying from a reputable source. Afghan rugs can come in various sizes and different styles from big area rugs to runners.
Afghan Rugs Are Unique Works of Art
People have treasured these rugs for so many years. In the US and all over the world, Afghan rugs are popular and treasured for their unique designs and history. Though these rugs can last for a lifetime, they will only last if you take very good care of them. You have to clean them properly and you have to be careful about wear and tear from regular shoes and high heels. Cleaning Afghan rugs yourself is usually a recipe for disaster. You need professionals.
There is only one company that can provide you with complete Afghan rug cleaning in New Jersey, ABC Rug and Carpet Care.
We Have the Skill and Experience to Clean Afghan Rugs
ABC Rug and Carpet Care is skilled in removing odors, set in stains, pet urine, and embedded dirt. In addition to cleaning your rug, they will also repair any torn or otherwise damaged parts before returning it to you. Your rug will not be damaged during the cleaning process or the repair process. You will also be happy to know that they use only earth friendly products, so your rug will never see a harsh chemical. They will treat your Afghan rug with the same gentleness and care that the person that crafted them did.
If you have one or more Afghan rugs, then you should make sure to book an rug cleaning every year. This is ideal for keeping your rugs looking as good as new for years to come. In order to get the process started, just give ABC Rug and Carpet Care a call and a technician will come out and assess your needs free of charge. He will give you a price quote, and then he can take the rug right then and there, or book an appointment to come back and pick up the rug. Once they have completed the cleaning and repairs (if needed) of your rug, they will deliver it right back to your door. What could be easier?
If you have more questions or want to lean more about our services, feel free to call.. To set up an appointment, call us at 1-888-829-7072.