Welcome to ABC Rug and Carpet Care
888-829-7072
Call Us -
Get 15% Off All Our Rug services
ABC Oriental Rug Cleaning New Jersey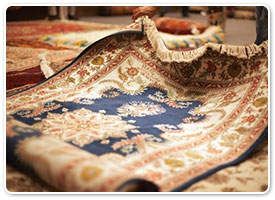 Professional rug, mattress, carpet and upholstery cleaning services are ABC Rug and Carpet Care's specialty. This is a company that takes pride in their work. Not only do they do a professional job when cleaning for their client's but they also use care as to not damage the products they are cleaning.
ABC Rug and Carpet Care is a Green Company
ABC Rug and Carpet Care is a green professional cleaning company. This means that they do not use chemicals or other harsh cleaning agents but instead they carefully choose environmentally safe cleaning products.
This is a company which provides excellent service and delivers their professional expertise to your home. If you would like a price quote or need to have one of ABC Rug and Carpet Care's specialist come to your home they are more than happy to provide you with free advice. A company that has made a name for themselves from their oriental rug cleaning in New Jersey, ABC Rug and Carpet Care cannot be beat.
We Can Remove Tough Stains in Your Rug
What ABC Rug and Carpet Care do best is get out stains which cannot be removed by home owners. Also, stains that are in valuable materials are part of ABC Rug and Carpet Care 's specialty. This company also has a repair factory should you desire to have some of your items fixed which have damage. This is a professional cleaning company with all licenses and training certifications proudly displayed in their front office. They carry insurance should you file a claim on for damages, however; they boast on their reputation for delivering high quality services which never fail to please their customers.
We Hand Wash Oriental Rugs
ABC Rug and Carpet Care uses hand washing to deep clean your Oriental rug. This keeps the environment healthy and is better for customers' health as well. It is not good for people to breathe and come into contact with harsh chemicals or a lot of industrial cleaning agents. Wherefore, ABC Rug and Carpet Care are pleased to proclaim that they use only safe cleaning agents and still provide professional cleaning service. In fact they are hard to beat when it comes to pricing and services.
Pickup and delivery are included to customers free of charge. This is part of the full service package when you choose to do business with ABC Rug and Carpet Care. One of their specialties is Oriental rug cleaning in New Jersey. This is most likely due to the cost and quality of oriental rugs. Most people are very careful with such fine personal belongings and do not trust such prized possessions to just any companies so when a company like ABC Rug and Carpet Care is found, many of their clients stick with them for life. If you have a tough job that needs tackling then you should contact ABC Rug and Carpet Care at 1-888-829-7072 and have one of their specialists come give you a free in home quote today.