Welcome to ABC Rug and Carpet Care
888-829-7072
Call Us -
Get 15% Off All Our Rug services
ABC Area Rug Cleaning New Jersey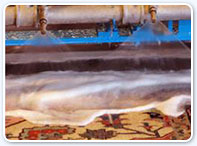 Area rugs in homes may have both sentimental and monetary value. As careful as owners may be with these rugs, the rugs get dirty or stained and require cleaning. Because some area rugs may be more delicate than regular carpet, they take special handling to ensure they remain in good condition.
Call the Rug Cleaning Expert of New Jersey
ABC Rug and Carpet Care is the place to go for rug cleaning New Jersey. The employees at ABC Rug and Carpet Care are trained technicians and know how to care for valuable and heirloom rugs. Employees at ABC Rug and Carpet Care take care to clean the rugs in a way that protects the value of those rugs. Dirt on the rugs is carefully swept away. Liquids are blotted. Stuck-on particles are gently removed.
ABC Rug and Carpet Care carefully soaks the rugs to remove embedded dust, odors and stains. The company has their own factory set up to clean rugs carefully and safely by technicians who are both licensed and experienced. Rugs are repaired and cleaned in a green solution. Cleaning rugs properly protects the value of the rugs.
We Offer a Free Consultation with a Technician in Your Home
A client may be hesitant about trusting their precious heirloom and valuable rugs to the care of any rug cleaning service, including ABC Rug and Carpet Care. However, at ABC Rug and Carpet Care, potential clients can call and make an appointment with a company employee. The clients doesn't even have to travel to ABC Rug and Carpet Care. Instead, an experienced technician will arrive at the client's residence to check out the rug, see what needs to be done and sit down with client. The technician will explain what needs to be done, how the cleaning will be accomplished and cost. They also answer any and all questions until the client is satisfied.
The consultation is absolutely free to the client. If the client is satisfied, the technician can take the rug after the conclusion of the consultation. Whether or not a consultation is involved, ABC Rug and Carpet Care will pick up and deliver rugs to be cleaned at no charge and at a convenient time for the client.
ABC Rug and Carpet Care employees desire that each rug in their care receives the best care possible. With this in mind, they clean the rugs using only safe, environmentally-friendly products without chemicals that might damage fragile fibers. The company does more than simply clean rugs. They also will repair damaged rugs, restoring them to their former glory as much as possible. Highly-trained staff work with the latest machines and green products to produce rugs that are perfectly repaired, clean and soft.
ABC Rug and Carpet Care is the place to go for great rug cleaning and repair. For more information, call us at 1-888-829-7072.