Welcome to ABC Rug and Carpet Care
888-829-7072
Call Us -
Get 15% Off All Our Rug services
ABC Persian Rug Cleaning Long Island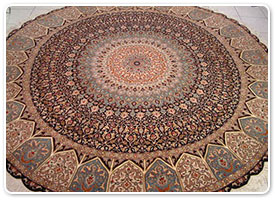 Persian hand made rugs are a valuable part to any home and just like anything they need to be taken care of. Accidents happen and there may be dirt, grime, or liquids stuck into the inner parts of the rug that make it look less appealing. Also, this can damage the rug over time and make it deteriorate faster. In order to avoid all of this ABC Rug and Carpet Care can clean any Persian rug and help it keep its value.
Call for a On-Site Consultation
To hire ABC Rug and Carpet Care to clean a Persian rug in Long Island, NY, all it takes is a phone call and they will be at your service. A technician will set up an appointment at the clients house and they will come by to inspect the rug. After the technician explains what they will do to the rug and how much it will cost he or she takes the rug to the factory. This whole visit comes with no charge to the client. The factory is where the rug is cleaned by hand and scrubbed until all of the blemishes are gone. Also, any odor that has accumulated on the rug will be gone by the time it is returned.
ABC Rug and Carpet Care is a Full Service Company
ABC Rug and Carpet Care also offers repair services for Persian Rugs that may have had an accident. Parts that have been ripped off or even more severe injuries to the carpet can be taken care of. Our professional employees have been licensed in this field of work and know experts at what they are doing. Also, all of the chemicals we use to repair and clean the rugs are completely green. There is no damage to the environment by the use of these chemicals and will not leave any residue on the fibers fo the rug. When we return your back to you, it will be clean and fresh just like the day you bought it.
ABC Rug and Carpet Care is your best option if you need Persian rug cleaning in Long Island. Whether it be a stain, embedded dirt, an odor, or even more serious damage to the rug. Our professional staff have been trained to take care of rugs and they will be returned in a good manner. Handmade Persian rugs are a staple to many family's homes and most of them are very valuable. With this value comes some responsibility to maintain it. Don't let the value drop any farther and let ABC Rug and Carpet Care take care of it and call us today at 1-888-829-7072.