Welcome to ABC Rug and Carpet Care
888-829-7072
Call Us -
Get 15% Off All Our Rug services
ABC Oriental Rug Cleaning Manhattan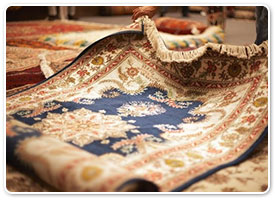 Oriental rugs that are used for decoration in the home can get soiled or stained and require cleaning. If you have an oriental rug that needs to be cleaned, then ABC Rug and Carpet Care is here for you. Rugs will go through a multiple step process to restore your rug to its original beauty.
Pre-Inspection
Rugs that are received at our facility will go through an inspection to find any problem areas. This will be done by hand by examining the front of the rug and the back. The cleaning technician ensures that a rug is not overlooked for blemishes and defects. After checking over the rug and locating any stains, we starting our dusting process.
Dust Removal
The next step in the cleaning process is to remove dirt and dust from the rug. A home vacuum cleaning that is used to clean a rug does not remove all the dirt from the fibers. The build up of dirt over time can age a rug and make it look old and worn. Compressed air is used to remove dirt and dust from a rug that does not damage the material.
Submersion Bath
Rugs that have dirt and dust removed will go on to a submersion bath. This is a washing that is done by hand by letting the rug soak for hours to fully remove embedded dirt and stain.. During this step a rug will be treated with special cleaners to remove animal odors and urine stains. Treatments are done for a rug to eliminate each problem that has been identified.
Rinse
Rinsing is the next step after a rug has been cleaned and treated. This rinse will remove all the soils and cleaners from the fibers of the rug. Clean water that has been purified is used to rinse the rug. The rinse will restore the texture and colors of the rug during the drying process.
Drying
Rugs that have been rinsed will then move to the drying step. This is done under controlled speeds that ensure the proper results. Drying that is too slow or too quick can damage the rug. The drying room for the rug is humidity controlled to ensure optimal drying.
Fringe Work
The last step of the cleaning process is fringe work and final grooming. This is done to remove any dirt that remains in the fibers or fringes of the rug. The fringes are rinsed and combed by hand to ensure the pile lays smooth.
Additional Information
Rugs can be brought ABC Rug and Carpet Care or we can come out and pick up the rug at your home.