Welcome to ABC Rug and Carpet Care
888-829-7072
Call Us -
Get 15% Off All Our Rug services
ABC Persian Rug Cleaning Westchester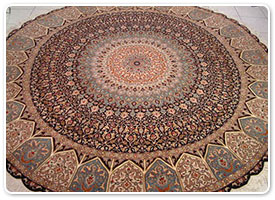 Handmade Persian rugs are a keepsake treasured by many. Some of these exquisite rugs can be quite costly and therefore should be treated with extra care, especially when cleaning. There should never be any question as to whether to clean a beautiful handmade Persian rug by do-it-yourself methods. Always trust cleaning professionals to achieve the best possible results. ABC Rug and Carpet Care are trusted cleaning professionals when it comes to handmade rugs. When searching for Persian rug cleaning Westchester NY, look no further than ABC Rug and Carpet Care for experts who will treat every handmade Persian rug with tender loving care.
Want a few excellent reasons to keep Persian rugs clean?
Cleaning handmade Persian rugs protects their value. Letting treasured Persian rugs get soiled, dirty, and smelly lowers the value of the rug. It's also a shame to see a beautiful Persian rug not taken care of properly. Another reason to clean Persian rugs every 2-3 years is so the beauty of the rug can be enjoyed. Why invest in a Persian rug and not keep it in perfect shape?
ABC Rug and Carpet Care is the Persian Rug Cleaning Specialists.
It's nice to know experts are close by when it comes to cleaning Persian rugs. These experts know how Persian rugs are made, the different types of dyes used, and how they are knotted. All this information is very important to do the best cleaning job possible. Our professionals hand wash and soak every rug to remove all stains, dirt, and odors. Pet odor will be completely removed, as well as tough dirt and hard-to-remove stains. All this will be done with absolutely no damage to the rug. We have an outstanding rug cleaning factory with all the latest in equipment. Their staff is licensed, professional and experienced in the cleaning of all types of handmade rugs. They also have a rug repair shop to fix damaged rugs.
Set up a convenient time for free pickup and delivery.
A time can be arranged for a free rug consultation and pick up and delivery of the rugs. A technician will answer client's questions about cleaning and cost and can pickup the rugs and take them in after the consultation.
ABC Rug and Carpet Care is a green rug cleaning company.
There are no harsh chemicals used in cleaning Persian rugs. The use of all green products is a benefit to the environment and to those customers who may suffer from allergies.
Choose experienced professionals for the best result in cleaning Persian rugs.
If you search online for "Persian rug cleaning Westchester NY," choose the company that takes remarkable care when cleaning Persian rugs - ABC Rug and Carpet Care.